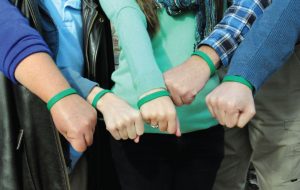 About the Fibrolamellar Registry
What's a patient registry and why is one needed?
A patient registry is a collection of health data about patients with the same disease, stored in a highly secure database. It's a comprehensive, online survey that gathers medical histories and test results. The Registry meets the highest standards for privacy and patient protection and has been approved as a scientific study by the WCG Institutional Review Board.
The Fibrolamellar Registry allows us to link our community's health data with the scientists, physicians, collaborating hospitals and research institutions around the world studying our disease. Our goal is to spur and speed research, to develop a diagnostic test and, ultimately, effective treatments.
Currently, there is no single place, website, institution, or clinician collecting the information on different therapeutic treatments for fibrolamellar. This lack of knowledge is sorely limiting our progress in fighting this disease. Simply put, there isn't enough patient information, history or tumor samples at any one institution to build up a collective knowledge on the cause(s) of fibrolamellar and, more importantly, the effectiveness of different therapies for it.
Is it working? Yes! Learn more about the published papers and research-in-progress based on FibroRegistry data.
How do I join the Registry?
Click here to Join the Registry. We are collecting information about patients both living and deceased. Patients may join. So may their parents, children, siblings, partners or others.
How can I help?
Joining the Registry is the best way to help. You can also volunteer in several ways. For example, you can also donate funds as we are an all-volunteer organization. You can donate tumor tissue or blood to our research partners at Rockefeller University, which is also looking for volunteers in the lab. Numerous fibrolamellar patients, from high school age up, have enjoyed doing research in this lab.
We also invite you to like our Facebook page.
Who is involved in the Fibrolamellar Registry?
A number of fibrolamellar patients, parents, siblings, spouses, friends, partners, researchers, nurses, physicians, epidemiologists and engineers worked together, over three years, to build the Fibrolamellar Registry:
Fibrolamellar Registry Board Members
Dr. Sandy Simon Chairman, President
Rachael Migler Executive Director
Julie Pickard Secretary
Lisa Walters Treasurer
Elana Simon Director
Carol Hendrix Director
Dr. Barbara Lyons Director
Siobhan Lett Social Media Manager
Fibrolamellar Registry Scientific Advisory Board
Dr. Benjamin Farber, University of Iowa

Dr. Ronald Lahasky, Abbeville, Louisiana
Dr. Gadi Lalazar, Shaare Zedek Medical Center
Dr. Barbara Lyons, New Mexico State University
Dr. Michael Torbenson, Mayo Clinic
Fibrolamellar Registry Survey Designers, Contributors, Advisors, Testers and Guides (past and present)
Gail Trecosta (Team Leader)
Rachael Migler (Team Leader)

Dr. Mark Baerlocher, Society of Interventional Radiology

Sarah Crook
Michelle Desmond
Dr. Benjamin Farber, University of Iowa
Dr. William Hammond, Rockefeller University
Dr. Gadi Lalazar, Rockefeller University
Katherine Lambertson, Genetic Alliance
Will Lewis, St. Jude's Children's Research Hospital
Dr. Barbara Lyons, New Mexico State University

Anne-Marie McDonough, RN, MSN

Julie Pickard

Dr. James Saltsman, Rockefeller University
Dr. Jennifer Spink Strickland, Mesa Community College
Matthew Smith, Genetic Alliance
Chris Sweeney
Sharon Terry, Genetic Alliance
Lisa Walters, FNP, St. Jude's Children's Research Hospital
Laura ZaleWCWCG